Do you have a best product but struggling to sell and promote? You have website,nice stuffs and more but still sales is not moving up?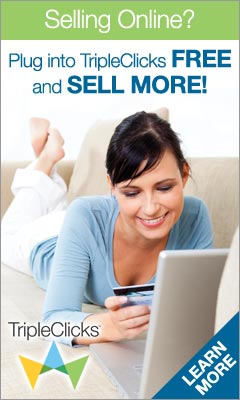 ECA program of
Tripleclicks
allows companies of all kinds
from around the world to market their products and services
side-by-side with Tripleclicks own products. Tripleclicks has made it easy for companies to plug in their products as well as services.
There is no cost for ECA's to plug in their products and services. Instantly you get more exposure and traffic by way of Tripleclicks. It's a "slam-dunk" for you,a total win/win.
Instantly increase your SALES....
@Tripleclicks takes you global. Reach millions of
potential customers worldwide on one of the
fastest growing international E-commerce
websites on the world!
@Tripleclicks put the marketing muscle of over
1 million affiliates to work for you,promoting and
selling your products and services in over 190 countries!
@Simply sign up,submit your products and services
and get ready to take orders! It's quick,simple and
there is no risk
because you PAY NOTHING
unless Tripleclicks get you sales.
PLUG INTO A WORLD OF NEW CUSTOMERS
There are options for you to create special weekly sales,designate close-out prices and more..
REGISTRATION:
As soon as you sign in, your applications are reviewed in SFI corporate offices.This will take no more than 1-2 business days. A notification email is then sent to you for acceptance or rejection. If accepted, you will get access to a special ECA admin area at Tripleclicks where you can begin listing your products/services individually or in bulk via data import. Your listings are then added to Tripleclicks.com site and you are off and running.
QUALIFICATION & PARTICIPATION:
#Any reputable and established companies, that sell quality,non-controversial products/services.
#Companies that have a physical retail store
# Who create or manufacture their own products
# Small to medium marketing company (SME)
#Company selling E-books
#New electronic company
#Company that sells used items
#Appliances
#Retailers who should be able to ship in your own country
#Digital products
#Arts and crafts store
#Gift shop,novelty and speciality shop
#Independent merchants
#You must be responsive to SFI requests
#Must process orders promptly
#Should stand behind your products with appropriate
return policies.
YOU OWN YOUR WEBSITE?
No problem. Look at the opportunity to promote your product additionally here and 100% FREE of cost! More promotion means more exposure and in turn more SALES. Isn't it?
YOU WISH TO SELL DIRECTLY TO LOCAL CUSTOMER?
Yes.You can. Tripleclicks offers a "Will-Call" option for local pickups of orders. When entering your products, you can select this option while "opting out" of any product shipments. Customers will place their order through Tripleclicks. They will then forward the orders to you and you will prepare the orders for local pick up by the customer.
RECENT ECA'S IN TRIPLECLICKS:
Currently Tripleclicks features the products and services of 4173 ECA's from 190 different countries.
VIEW LATEST ECA'S
As an ECA I can walk you step by step in Tripleclicks. Read carefully all the information to get started.Besides reasonable cost it is easy for me to list.
* Apply to LocalPay license(s) for $35 anually through Tripleclicks link
* Fill in the application through the link provided.
* Set up your website as dictated.
* Work out the price and remember to include 15%
to be given to affiliates who are the real sales force
for you.
* Add your company logo and profile
* Contact information always be updated/edit
* A brief welcome message to connect with
* After a fortnight start a Hot Deal/close-out with the
help of listing manager to guide you.
* Ask non Tripleclicks members to connect with you through your T-Connect website( you will build up
your mailing list and your power rankings too)
* Check your website atleast once a day.
* For editing/adding and shipping you will be given a link
* You can add more ship to countries to increase
your sales by listing manager at eca center
VIEW WHAT THIS ECA OF TRIPLECLICKS SAYS
First select a best site to promote your sales and persistently update and look for the mistakes you commit and get tips to succeed or source some e-books to become a top seller and instantly boost your sales.
In Tripleclicks your products/website/spelling/photos will be subject to comments from affiliates.So that your chances of success is more.
SFI AFFILIATES WILL PROMOTE AND SELL YOUR PRODUCTS!TRY FREE!
Still if you are skeptical with Tripleclicks, try alternate world macho, reputed, established no.1 online selling giant to reach hundreds of millions of satisfied online customers from all over the world. More legit and less plagued by scams.
Read FAQ's before you get started. They have all sorts of guiding till you end up with sales.
Click on 'sell on Amazon' and decide what kind of seller you are?
It's really quite easy to get started here.
From my experience on e-bay and amazon:
With Amazon, you can nominate your selling price and you know exactly how much you'll get for the sale. While on e Bay, you are taking a gamble and you end up getting nothing. Further, I love Amazon for selling new products and their listing of product feature is very good and easy without filling too much information for your product and you can list your item by just filling prices and condition with a little extra details. But in ebay, the whole thing is cumbersome, complicated and taxing.
To cut the long story short,
Follow Amazon's rules and guidelines

Get good feedback

Right kind of seller account

Let Amazon handle your fulfillment service to reduce your overhead

Adopt a competitive pricing strategy and promotions

Know all the hidden costs of your product

Remember, 'no margin- no mission'

Take advantage of simple marketing opportunities here

Always create a simple seasonal profile forecast to manage inventory.

Handle package with care

Make use of seller central reports by Amazon
Remember, for selling electronics and special stuffs, you must get permission from Amazon. You can sell whatever is available on their website. If not, recommend and get approval to list your item. There is no listing fee in Amazon unlike Ebay. If you are selling, books, CD's, DVD's, Amazon is the apt choice. Based on the goods condition, like, used, new, like-new, you can set your price. If stability and continuity are your thing I recommend Amazon as your best bet. Also, Amazon with its clearer, more one-size-fits-all platform and rules set, more accessible customer service and less stringent buyer rating requirements (unlike Ebay), a better comfortable and flexible environment!
In Amazon, once you've read through the documentation and found your niche, you can essentially 'set-it and forget-it'!
You get the absolute best price for your items sold. The average selling price is higher for most similar items here, in particular for items sold using Amazon fulfillment (since they become available to Amazon Prime customers). Amazon buyers are looking for convenience without regard to price or and without much regard for the differences between you and your competition.
In Amazon, when buyers look for an item, the sellers they show are rotated (unlike E-bay, only top sellers shown), so that even new sellers get exposure. Since Amazon buyers aren't typically evaluating sellers as they buy, you'll have guaranteed sales even you are new.
You can just send everything to Amazon at no cost, and let them handle your delivery, whenever someone makes a purchase- at the same time you gain lucrative Prime members, who buy on convenience, not cost.
But the only disadvantage is they charge more commission fees to use their service. Hence use Amazon for selling larger, expensive items as you'll be charged less than, if you're selling a $5 book.
(Scroll below the page to find selling link)